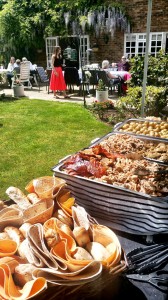 Here at Hog Roast Newmarket, we don't do average and we don't do ordinary. We thrive on exceeding your expectations and offer dining options that are a cut above the rest. With all our years of experience providing hog roast catering services in the local area, we can safely say that you will not taste any finer slow-roasted meat than ours in the whole of Newmarket and beyond. Our vast experience has also taught us that however good we are at what we do, it is never wise to only offer one thing, which is why we are constantly adapting and updating our menus and catering style to incorporate locally-sourced ingredients and varied dishes that will appeal to everyone, not just fans of pork.
Our organic chicken, sirloin of beef and ethically-reared spring lamb are just as tasty and succulent when prepared using our tried and tested slow-roasting method, and our exciting range of seasonal vegetables and salad side dishes are all designed to complement your choice of meat perfectly. We don't just aim to please meat-eaters either-we also have a range of imaginative vegetarian alternatives for guests who don't eat meat, which makes our catering services suitable for all diets and occasions.
The Flawless Service That We Offer
From your initial enquiry, to the preparation and service of your chosen menu, to us discreetly and efficiently clearing up and taking everything off-site after the event, we let you be in the driving seat every step of the way. We don't dictate the terms or ever refuse to supply something which might not be listed on one of our menus.
We do everything we can to ensure your event is a huge success and the food we provide is exemplary. For formal events we can provide waiting staff for table service; for more relaxed gatherings we can provide a well-presented buffet on our own service table so everyone can help themselves.
We always listen to exactly what you want and adapt our approach accordingly, as we know that great service is just as crucial as great food to make your event a success.
The Events We Cover
Because our menus and service are constantly evolving to suit your needs, Hog Roast Newmarket can cater for any type of indoor or outdoor event in the local area, including weddings, company conferences, birth parties, anniversaries, christenings and any other type of celebration you can think of.
Whatever your special occasion may be, we can match our food and service to it perfectly. Give us a call today to find out more about us and our menus.